The Office's John Krasinski sent audiences into a frenzy this year by appearing as Earth-838's Reed Richards in Doctor Strange in the Multiverse of Madness, bringing to life one of the most popular MCU fan casts ever. Although that casting was certainly exciting to see within the MCU's first take on the Illuminati, Marvel fans have much higher ambitions for Krasinski, specifically the upcoming Fantastic Four movie.
The MCU's first movie for Marvel's First Family made waves at San Diego Comic-Con 2022, as it was announced to be releasing in November 2024 to kick off Phase 6. With over two years until that movie becomes a reality, the time has seemingly come to actually bring a cast and crew together to make the film happen.
Following his short time in Doctor Strange 2, many fans want Krasinski to get the chance to fully explore Reed Richards by playing the Earth-616 version in Fantastic Four. After a few weeks out of the Marvel limelight, Krasinski has addressed those rumors by offering the exact response one might expect from anybody associated with the MCU: revealing absolutely nothing.
John Krasinski on MCU Fantastic Four Movie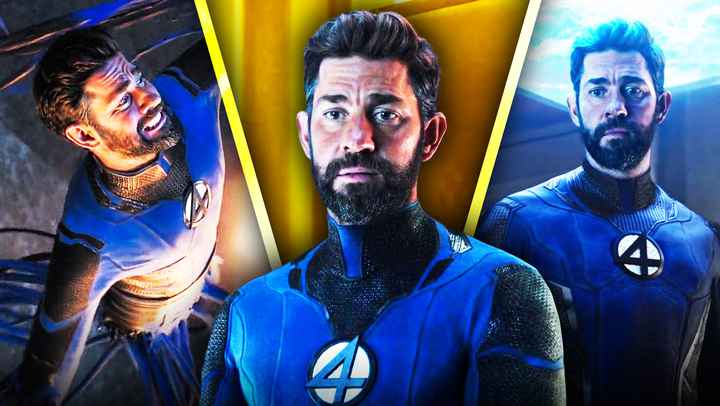 During an interview on The Tonight Show Starring Jimmy Fallon, Doctor Strange in the Multiverse of Madness star John Krasinski addressed the possibility of returning as Reed Richards in Marvel Studios' Fantastic Four.
While chatting with Fallon about Marvel Studios' announcements at San Diego Comic-Con 2020, Krasinski admitted that he couldn't say anything about the upcoming Fantastic Four movie that starts Phase 6. Although he joked with Fallon about being desperate to learn any information regarding the movie, he said he wouldn't know anything until "right before (they're) about to shoot:"
Fallon: Comic-Con, they just announced all these new movies, and they announced that there's gonna be a new Fantastic Four movie.
Krasinski: Yes.
Fallon: You're not allowed to say anything.
Krasinski: Nope.
Fallon: I'm not allowed to really ask you.
Krasinski: That's right.
Fallon: But… you think? You think?
Krasinski: You think?
Fallon: Do you think? Could one think?
Krasinski: Seriously, what have you heard? I need to know.
Fallon: They don't tell you anything?
Krasinski: They don't tell you anything.
Fallon: Not until right before you're about to shoot.
Krasinski: That's right.
Fallon also brought up the rumors about Krasinski's wife, Emily Blunt, playing the MCU's Sue Storm. As Krasinski was about to reveal something about the film, he faked being shot by a dart and dying as the crowd burst into laughter:
Fallon: And there's also a rumor that your wife, Emily Blunt, would play Sue Storm.
Krasinski: Oh!
Fallon: You think? Do you think?!
Krasinski: Jimmy, I'm gonna tell you on your show, it's… (fakes death)
Fallon: Oh my god! Someone killed him right now, can we get him a medic? That's acting right there!
Krasinski: No, it's actually a Marvel dart. That's a Marvel dart, there's a guy walking around.
Krasinski Using Classic MCU Evasion Technique
Even for someone who's only had about 10 minutes of screentime within the MCU, John Krasinski is well aware of what would happen to him if he were to go full Tom Holland and spoil something.
Krasinski kept his appearance in Doctor Strange 2 a secret for possibly more than two years after he had his first reported meeting with Marvel Studios in mid-2020. It was kept so under wraps that starring actress Elizabeth Olsen even passed a lie detector test when she said she'd never met him, even though her Scarlet Witch turned his Reed Richards into fantastic spaghetti in that movie.
There are two obvious options for why Krasinski answered the way he did: either he truly doesn't know if he will return, or he's maybe already set to be in the movie and can't reveal anything about it. The best guess would be the former option, as Fantastic Four still doesn't even have a director in place before pre-production starts.
More than likely, filming for this movie will take place sometime in 2023, meaning that Marvel could be planning to make casting decisions by the end of 2022, even potentially announcing them at D23 in September. But if Krasinski is the one to take on Mr. Fantastic in the canon MCU, he won't be the one revealing it before the time is right.
As for Emily Blunt, she has openly admitted that she isn't much of a fan of superhero movies anymore, but nothing can be set in stone until Marvel makes the final call.
Doctor Strange in the Multiverse of Madness is now streaming on Disney+ and available for purchase. Fantastic Four will release in theaters on November 8, 2024.
Latest posts by Abbas khan
(see all)